Truxedo - Sentry CT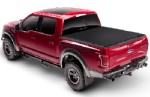 Standing Guard Over Your Truck Bed



Introducing the all-new Sentry CT by TruXedo. This hard roll-up truck bed cover comes
equipped with our premium matte black woven fabric and features an Xtra-low profile look.
The fabric is pressure bonded to heavy-duty black aluminum slats making Sentry CT the
ultimate in strength and style.

When rolled up tightly at the cab, the cover provides full bed access without blocking rear
view visibility or the third brake light. When closed, the Sentry CTís flush mount profile
delivers a sleek look that is sure to impress!
An extra security latch is located towards the center of the cover for enhanced protection
so you can rest in the fact that your cargo is safe and sound.



The Sentry CT is made in the USA and comes backed by a 3 year warranty.