Backrack - Headache Racks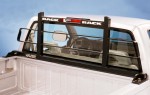 BACKRACK - Original





Maintains your truck's stylish good looks while providing strength and functionality.

FUNCTION & STYLE FOR TODAY'S TRUCKS:

BACKRACK™ truck racks maintain your truck's stylish good looks while providing you with a practical tool to carry ladders and long loads, secure shifting cargo, or mount most any type of light or accessory.

SECURE CARGO QUICKLY AND EASILY WITH CONFIDENCE

BACKRACK™'s simple and open design makes it easy to hook a bungee cord or ratchet strap around the flat bar. Rest a ladder or long lumber between the uprights and secure. Tie bulky cargo to the BACKRACK™ with the confidence knowing that your rear window and cab are protected from shifting cargo.



BACKRACK - Saftey Rack





SUPERIOR PROTECTION

The SAFETY RACK provides complete coverage of the rear window while offering clear visibility through the two inch fully welded wire screen.


UNRIVALED QUALITY & DURABILITY

The two-inch wire screen is manufactured using 3/16" cold rolled wire that is welded at each and every intersection. Strong and rigid enough to tie to, yet easy to see through. The screen is welded into a heavy gauge two-inch HRPO square steel frame. The generous width allows for increased ladder and cargo carrying capacity.